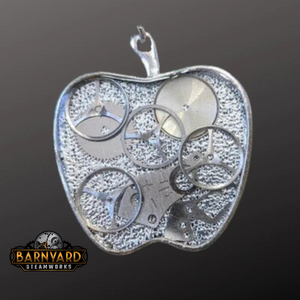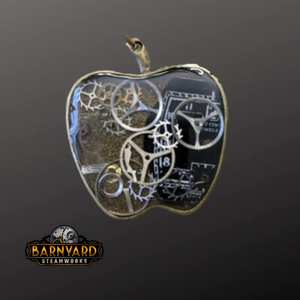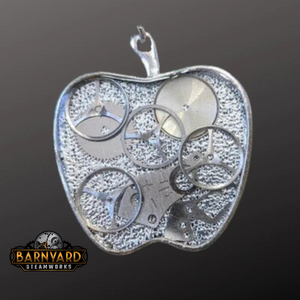 Steampunk Apple Necklace, Teacher Gift, Old Watch Parts
These make a great gift for teachers!
Steampunk Apple Pendant with antique watch gears and parts covered with crystal clear resin. The pendant is available in an Antique Bronze, Antique Copper, or an Antique Silver finish. You will receive a matching 24" chain. 
The background of the apple can be painted in any color you want or natural. Please leave a note if you want a black or colored background.
A unique accessory that will make a great talking point! Give your child's teacher a one-of-a-kind gift this year!
*** This piece is made from authentic watch pieces that are up to 150 years old and covered with jeweler-grade resin. It is not an image glued onto a glass dome. Multiple layers of resin create depth and the domed top layer gives a high shine.
***This piece may have small bubbles in the resin. I do try to remove all air bubbles but it is the characteristic of resin to release air as it cures and will add to the character of your piece. The resin I use is self-doming so your pendant will have a slight curve on the front. The resin also has a high UV resistance and will not turn yellow or cloudy.
*** You will receive a similar pendant to the one shown in the picture. As each Pendant uses unique recycled vintage watch gears and parts.  The pendant you receive will be just as spectacular or more so than the one pictured. I am happy to send you a picture of your pendant before I ship it to you, just pop a note in the message section when you place your order.
I strive to give you high-quality handmade jewelry. All pieces come with a lifetime guarantee - if you are unhappy with a jewelry item purchased from Barnyard Steamworks you may return it to be repaired (if unrepairable I will create a new piece for you as close to the original as I can).  I use a high UV Resistant jewelry grade resin but please store your pendant out of direct sunlight. Jewelry is water-resistant but not waterproof, please do not wear your pendant while exercising, swimming, or bathing.  If your pendant & necklace becomes wet, dry them as soon as possible with a soft cloth. I want you to always be in love with your jewelry from me.
Shipping is $5.00 per order (not per item).
Your piece will arrive in a branded black gift box in an organza bag. A polishing cloth will be included. Ready for gifting if it's not for you!