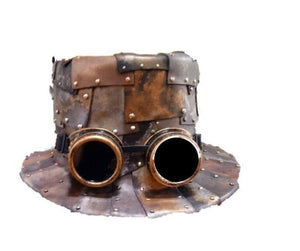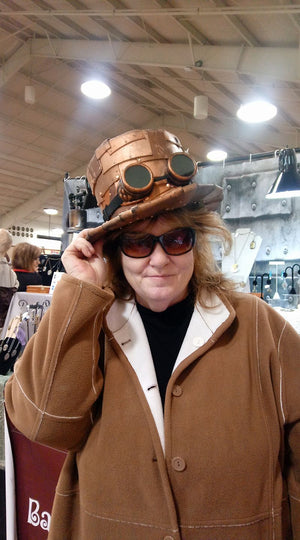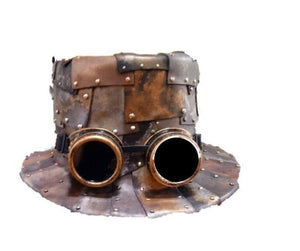 Faux Metal Steampunk Top Hats
Top Hats cannot be ordered on the website at this time. You must email Laura@barnyardsteamworks for more information. If you order a top hat online your order will be refunded.
 Top Hats start at $200. 
Terry creates these awesome faux metal top hats!
Each one has a personality of its own. Terry creates a variety of color options in different metallics and antiquing.
The frame of the hat is made from a yoga mat, covered with pieces of foam, and handpainted to give it a metallic look. The inside is lined with red satin fabric. Copper goggles are included. Goggles are only meant for show, not intended to be used for any other purposes and Barnyard Steamworks is not responsible for any injuries sustained.
Looks like you are wearing a metal top hat!
Shipping starts at $25 (depending on where you live in the US).

Please inquire about what is in stock by emailing Laura@barnyardsteamworks.com Small 53 - 55cm Medium 57-59cm Large 61 - 63cm X-Large 65-67cm