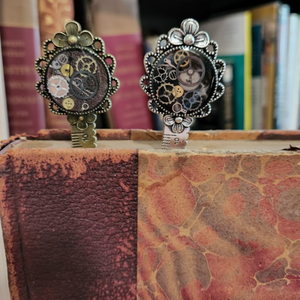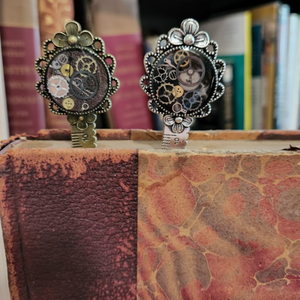 Bookmark - Antique Silver slip in
Do you love reading? Do you love the feel of the book in your hands? Do you love steampunk or clocks or mechanical mechanisms?
Then you need one of these awesome bookmarks!
This bookmark has metric ruler markings on the base. The top of the bookmark is handpainted black and filled with antique watch gears, then covered with crystal clear resin to seal everything in place.
*** This piece is made from authentic watch pieces from watches that I take apart that are up to 160 years old. I cover the pieces with jeweler-grade resin. The resin I use has a high UV resistance so it will not yellow or cloud. It is not an image glued onto a glass dome.
***This piece may have small bubbles in the resin. I do try to remove all air bubbles, but it is the characteristic of resin to release air as it cures and will add to the character of your piece.
*** You will receive a bookmark similar to the one in the picture. Everything created at Barnyard Steamworks is one-of-a-kind.

***The metal is an alloy base and is nickel-free and lead-free. I strive to give you high-quality handmade jewelry.
Barnyard Steamworks has a Lifetime Guarantee on everything Laura creates. You will receive a care & guarantee card with your order. A polishing cloth will also be included to help you keep your piece clean. The jeweler-grade resin will not cloud or turn yellow. A replacement will be made for you if this happens.