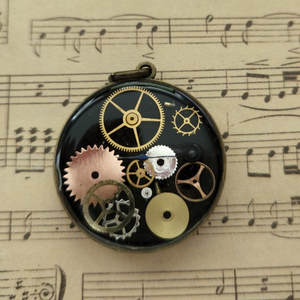 Antique 1908 Waltham movement
This is a beautiful 1908 Waltham movement in brass. Set in an Antique frame that is double-sided.  On the back side are antique watch gears set in crystal clear resin. This is on a 24" antique bronze chain.
This is the exact piece you will receive.
You can feel confident purchasing a piece from Barnyard Steamworks. Each piece is hand created by Laura and has a Lifetime Guarantee for repair or replacement if unrepairable.